Avenue
is a store for normal-sized women, featuring apparel sizes 14-32 and shoes from sizes 7-13 in regular and wide widths. The house shoe brand, CloudWalkers, is always on trend with a great variety of styles; for example, right now you can find metallic sandals, flirty wedges, comfy flip-flops or even office shoes--all qite reasonably priced. In fact, there are so many cute styles in so many sizes, that there's truly something for every woman this summer. But one look stands out above the rest. After some consideration, I picked a Style Bard fave from the current collection of CloudWalkers shoes. It's between:
1)
Tatiana Beaded Wedge Sandal
:
2)
Pricilla Snake-Embossed Wedge Sandal: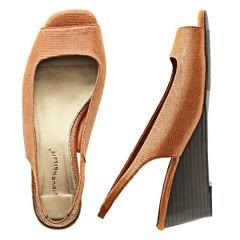 3)
Fiona Croc-Embossed Slide:
In the comments, guess which shoe is the SB fave and tell me why (be sure to check out other color combinations on the site, as well). Simply by guessing, you'll be entered to win
your
favorite pair!
Leave a comment by July 12th, 2009. Be sure to leave your email address so that I can contact you with the results.
I'll announce the real SB fave and the winner on July 13th, 2009.